Protect Your Alloy Wheels with Rimbands
Alloy wheel rim protectors; more commonly known as Rim bands, are a stretchy band of high strength tear resistant silicone rubber which fit around the edge of alloy wheel rims to add a stylish edge which also helps protect the wheels surface from damage often caused by hitting kerbs whilst parking and going over potholes.
Rim bands have an extensive tail section that sits right into the barrel of the wheel and are designed to have the correct amount of stretch to ensure a tight fit. They also feature 5 gripping ribs which stop them from slipping out while driving.
Made from a silicone rubber, Rim bands totally seal around the wheel and grip which allows no risk of air loss, which makes Rim bands the safest type of rim protector available. Rim bands are coated during production in a special Flurobond sealant, which protects the rubber from brake dust prolonging it's life span. As Rim bands are made from rubber, they will not damage the wheel surface.
Rim bands are available in 9 attractive colours and have a universal fitting which fits most alloy wheel types. Rim bands are supplied size specific from 15" to 22" wheels and are designed to be supplied and fitted by wheel and tyre specialists like Alloy Wheel Repair London. Available in Black, Blue, Lime, Orange, Pink, Red, Silver, White and Yellow.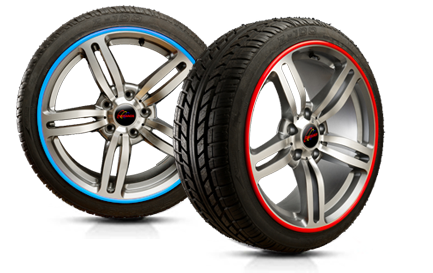 Adding Rim Bands
Our guys are experts at what they do and highly recommend adding rim bands to your newly re-furbished alloys. This ensures your alloys remain in pristine condition and have a longer life. Alterntaively, add them to your alloys as they are!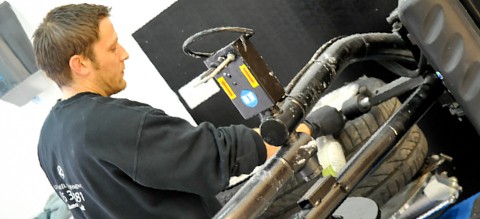 1. Wheels Arrive
Once your wheels have arrived, (you can drop them off, or we can collect and deliver) the tyres are removed using a specialist machine. Your alloys and tyres are marked for identification and the tyres stored on our racks. Your tyres are then checked for uneven wear and any concerns will be reported to you.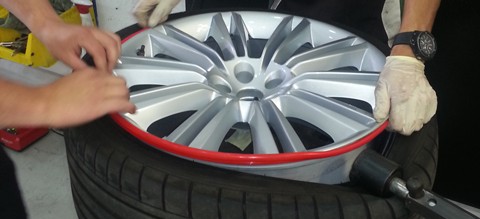 2. Add Rim Bands
We can either add rim bands to your existing alloys or fit them to your newly refurbished and repairs alloys.
They are stretched to fit around the rim and help protect the edges from kerbing damage, giving them a longer life.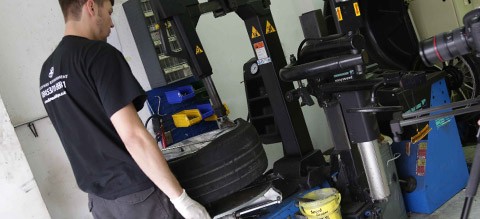 6. Tyres Refitted
Your alloys then have their tyres refitted. The wheels are balanced and where possible we will reset any tyre pressure system. Your wheels are then ready for collection.
Please note that we will not refit illegal tyres.