Shadow Chrome Alloy Wheel Refurbishment
If you want a stunning painted refurbishment for your alloy wheels, then Alloy Wheel Repair London recommends a shadow chrome effect. A shadow chrome alloy wheel refurbishment will give your rims the effect of a metal finish in the paint.
BMW was among the first motor vehicle marques to use a shadow chrome effect on alloy wheels as far back as 1998-1999. To achieve this desirable look a lot of time and skill in application is required compared to a standard finish painted effect. For this reason we would recommend you use a company like Alloy Wheel Repair London that offers this service in their alloy wheel repair centre, as opposed to a smart repair where this finish cannot be achieved.
A shadow chrome finish will produce a 'gun metal' finish which is darker in appearance. Our technicians prepare the alloys with an initial powder coated layer in black before being baked under heat to allow it to flow and form a "skin like" base layer that is very durable. Once fully cured, a very thin layer of silver (chrome shadow) paint is sprayed over the powder coat base. Finally, a thin clear coat of lacquer is applied as a final protective layer. The end result is a three-dimensional finish with a nice depth producing a wheel with a striking finish.
This finish is often applied to ensure the car stays in keeping with the looks of an already high spec car or to restore the car to its original condition, perhaps when selling a car or returning a car at the end of a lease. Very often it will be cheaper to have Alloy Wheel Repair London carry out the refurbishment rather than buying new or having to pay excess charges by the lease company.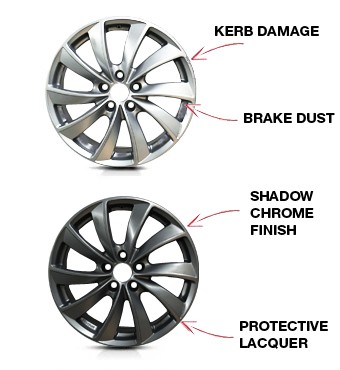 Quality Finish
Having your alloy wheels re-painted is a cost effective way of achieving a near perfect showroom finish for your alloy wheels. Our shadow chrome painted alloy wheel repair service is hassle free and quality assured. With precision painting, we guarantee a great result and a stunning look for your rims.
Kerbside damage, scrapes and chippings from the road can leave unwanted markings and damage to your wheel trims, and painting your alloys will bring them back to life.
Our trained technicians are on hand to ensure your refurbished alloys look stunning; you can email one of our team here.
Caring for Your Alloy Wheels

Standard alloy wheels need care and attention to keep them looking at their best and to preserve a longer life, so we advise that they are cleaned at least twice a week with a car sponge and wheel cleaner to keep them in pristine condition.
Over time, water can seep in and damage your wheels; however our specialist technicians are experts and can re-service your alloys when required.
Keep an eye out for milky patches on your alloys, which may be an indicator that water has started to seep under the lacquer, then email us or give us a call on 0208 589 3020 and we can advise what you should do to prevent further damage.
The Shadow Chrome Painting Process
Every wheel passes through a strict repair and refurbishment process which ensures the wheels are cleaned properly before being powder coated, shadow chrome painted and lacquered. This ensures your alloys are in pristine condition and have a long lasting finish.

1. Wheels Arrive
Once your wheels have arrived, (you can drop them off, or we can collect and deliver) the tyres are removed using a specialist machine. Your alloys and tyres are marked for identification and the tyres stored on our racks. Your tyres are then checked for uneven wear and any concerns will be reported to you.
Your alloys are checked for cracks, buckles and stress fractures. We will advise if the alloys are unroadworthy or beyond economic repair. Any additional repair work and costing will be notified at this stage. Your alloys are then stripped of all weights. Tyre pressure sensor equipment is marked to ensure the correct replacement.

2. Preparation
Your alloys are placed into a chemical solution and stripped back the bare metal. They are then prepared in a specialist Aquablast machine which cleans and keys the alloy's surfaces. Using this machine is quicker than more traditional methods and produces a better surface result. Your wheels are then de-greased.
Any damage to your wheels is carefully removed using abrasive discs by our prep guys.
Your alloys are then prepared, dressed and filled to deal with any damage to the rim edges and the face.

3. Pre Heating & Powder Primer
Your alloys are placed in the oven and heated for 30 minutes to remove all air trapped in the microscopic pores within the alloy. This ensures that no air escapes when the paint is applied. Air escaping would affect the quality of the primer finish.
A coat of powder primer is now applied covering the whole alloy surface, front and back. Once applied your alloys are reheated to ensure the powder primer can cure which forms a strong resilient coating.

4. Application of Colour & Final Coat
The next stage is to apply your Shadow Chrome colour to the alloys. We use the same paint as supplied to the best alloy wheel manufacturers in Europe, and we can be confident of the quality. Lastly, a final coat of lacquer is applied to your alloy wheels which is extremely durable and will protect your alloys from the elements.

5. Cooled and Checked
Your alloys take about 20-30 minutes to cool, and then they are carefully inspected by a technician to ensure the finish meets our stringent quality control checks.

6. Tyres Refitted
Your alloys then have their tyres refitted. The wheels are balanced and where possible we will reset any tyre pressure system. Your wheels are then ready for collection.
Please note that we will not refit illegal tyres.

All Your Shadow Chrome Painted Refurb Questions Answered...
Are all wheels eligible for Shadow Chrome Alloy Wheel refurbishment?
This very much depends on the extent of the damage, for example we won't repair cracked alloys for safety reasons; or until they have had the crack repaired. We recommend you email us some pictures of your alloy wheels and we can recommend advice on the best service we can offer.
How long does a Shadow Chrome refurbishment take?
As we carry out the whole process on site at our alloy wheel repair centre, we can turn your alloys round in 48 hours, subject to inspection and their condition. Simply drop them off, or arrange with us to collect and deliver them.
How Long will a Shadow Chrome Refurbishment last?
We guarantee our standard refurbishment for 12 months, but with a good care routine you will find they will last much longer than this.
How many times can my alloys be repaired?
This depends on the wheel and the damage. We are happy to advise on your wheels, simply email us images and details here.
Can you Repair Cracked Alloys?
It depends on how bad the crack or dent is. We do not repair badly cracked, buckled or dented wheels if there are safety related structural damage, in this case wheels should be written off and replaced. If you suspect a crack or dent, let us take a look and we can determine if we can repair them.
What else do I need to know?
48 Hour Service
Discount on 4 wheels