Welding Cracked Alloy Wheels
Alloy wheels can sustain cracks easily especially when driven over potholes and speed bumps. As the overall rolling height (wheel + tyre) remains the same on all cars, larger alloys requiring tyres with lower-profile sidewalls are more susceptible to crack damage. This is because a tyre sidewall flexes to absorb bumps and impacts, so a tyre with less sidewall (low profile tyre) has less ability to flex and absorb impact on our roads. Although all wheels can sustain cracks, larger alloys wheels are more likely to suffer from shocks and impacts from potholes, kerbs and speed humps, which mean that if you give a kerb a big whack, you are more likely to damage your tyres and alloys.
However, if you do notice a crack on you alloys, it doesn't necessarily mean you have to buy a new one and face a huge bill. Diamond Alloys recommends their welding service to repair hairline cracks which is a fraction of the cost compared to new.
Our skilled technicians can assess your alloy wheel for cracks, stress fractures or kerb damage or any other defects; even large chunks missing from your alloy wheel can potentially be repaired. Most wheel types can be completed in 24 hours. The process is safe and effective and will return cracked wheels to a safe state so they can be successfully balanced, which is all part of the service at Diamond Alloys.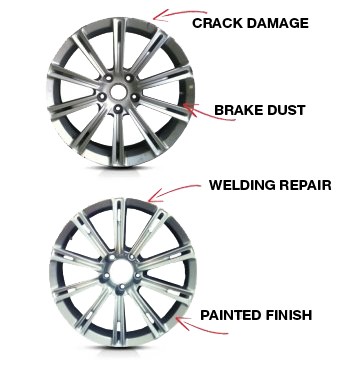 How to Spot a Crack
More often than not cracks are only discovered when a slow puncture is discovered on your MOT. However, it is good practice to check your tyre pressure regularly, so if you notice the air is going down quicker than usual it is a good indicator that you may have a hairline crack not visible to the eye.
Simply pop your car down to us and we can check it for you.
Is Repairing as Good as New?
We think so! Welding cracks is easy and still keeps the wheels strength and integrity. After the crack has been repaired we can refurbish the alloy to bring it back to life. With a powder coat refurbishment you won't even notice there was any damage there! The cost to repair your cracked alloy starts depends upon the severity and number of the cracks per alloy, however it is cheaper than buying new. We are happy to quote accordingly before any work proceeds.
The Welding Process
Every wheel passes through a strict process which ensures each alloy we see is checked for cracks and buckles. We want all our repairs to not only look good, but function perfectly too, so if we spot any problems at check in we'll let you know. If a crack or big chip is found we will follow thr following process to get your alloys back in shape...literally!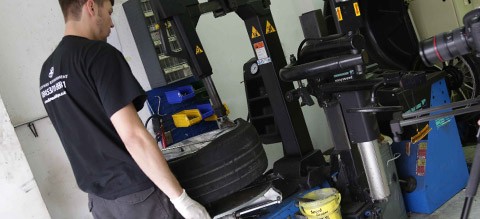 1. Wheels Arrive
Once your wheels have arrived, (you can drop them off, or we can collect and deliver) the tyres are removed using a specialist machine. Your alloys and tyres are marked for identification and the tyres stored on our racks.
Your alloys are checked for cracks, buckles and stress fractures. We will advise if the alloys are un-roadworthy or beyond economic repair. Any additional repair work and costing will be notified at this stage. Your alloys are then stripped of all weights. Tyre pressure sensor equipment is marked to ensure the correct replacement.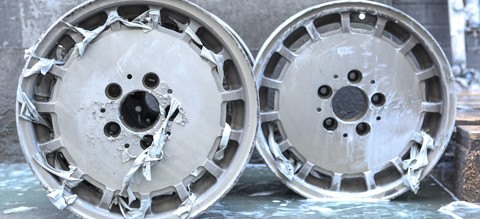 2. Strip & Aquablast
Your alloys are placed into a chemical solution and stripped back the bare metal. They are then prepared in a specialist Aquablast machine which cleans and keys the alloy's surfaces. Using this machine is quicker than more traditional methods and produces a better surface result. Your alloys are then de-greased.
Any damage to your wheels is carefully removed using abrasive discs. The alloys are then prepared, dressed and filled to deal with any damage to the rim edges and the face.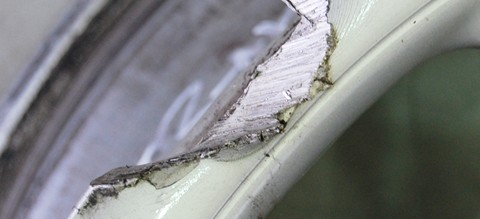 3. The Weld
The initial process grinds out both sides of the crack or hairline fracture which gets rid of any contamination so the weld will be perfect.
The next stage welds both sides of the alloy wheel, which is ideally the best method to great a strong weld.
Once the weld is completed both sides, it is as strong as a new wheel. Finally we grind the weld down so it doesn't damage the inside of the tyre.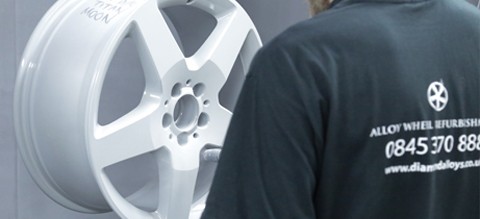 4. Powder Primer
Your alloys are placed in the oven and heated for 30 minutes to remove all air rapped in the microscopic pores within the alloy. This ensures that no air escapes when the paint is applied. Air escaping would affect the quality of the primer finish.
A coat of powder primer is now applied covering the whole alloy wheel. Once applied your alloys are reheated to ensure the powder primer can cure which forms a strong resilient coating.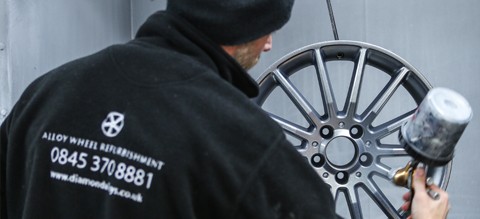 5.Apply the Finished Look
The next stage is to apply your chosen colour to the alloys, which can be a standard painted finish, a custom finish or a diamond cut finish. A final coat of lacquer is applied to your alloys before baking, which is extremely durable and will protect your wheels from the elements.
After oven baking your alloys are removed and hung to cool which takes about 20-30 minutes After this they are set out on the racks where they are carefully inspected by a technician to ensure the finish meets our stringent quality control checks.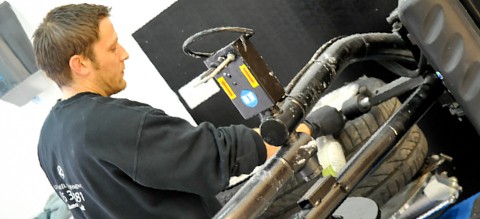 6. Tyres Refitted
Your wheels then have their tyres refitted. The wheels are balanced and where possible we will reset any tyre pressure system. Your wheels are then ready for collection.
We will not re-fit illegal tyres.

Your Alloy Wheel Welding Repair Questions Answered...
How do I tell if my wheel is cracked?
You may be advised of this when having new tyres fitted, during your MOT or during the wheel refurbishment process. Or, if you notice the air is going down quicker than usual it is a good indicator that you may have a hairline crack. Alternatively you may experience problems with your wheels and under investigation crack damage is identified.
Do I have to buy a new alloy wheel if it is cracked?
No, in many cases, having the wheel welded will resolve the issue at a fraction of the cost.
Can multiple cracks be repaired?
Yes, but typically the limit is three per wheel.
Can split rim alloy wheels be repaired?
Yes, split rims can also be repaired.
Will the strength of the wheel be affected after repair?
Not noticeably, but our roads are particularly poor and further damage can occur as a result of this, so try and avoid driving over potholes is possible, if not, drive over them slowly and with caution.
What happens if the wheel is also buckled?
We can repair the buckle at the same time.
Can the wheel be refurbished to match the existing finish?
Yes, in normal circumstances we can match existing finishes.
What else do I need to know?
48 Hour Service
Discount Applied for more than one crack per wheel