Straightening Alloy Wheels
With Britain's roads full of potholes it is no wonder so many car wheels sustain buckles. Replacing buckled alloys can be costly, so we recommend a simple straightening technique which is a fraction of the cost compared to new.
Buckled alloy wheels will destroy your tyres, which is costly enough, and the vibrations a buckle generates can also result in serious damage to both the steering and suspension components of your vehicle. A buckled alloy can also result in a failed MOT test.
Diamond Alloys can provide a specialist straightening service for most wheel types. All work is carried out on location in our West London repair centre and can be completed in 24 hours. The process is safe and effective and will return misshapen wheels to a state that they can be successfully balanced, which is all part of the service at Diamond Alloys.
Correcting the buckle will enhance your cars performance, save you from potentially costly suspension repair bills and from having to buy new tyres. The cost of repair starts from as little as £60 plus VAT depending upon the severity and number of the buckles per wheel. We are happy to quote accordingly before any work proceeds.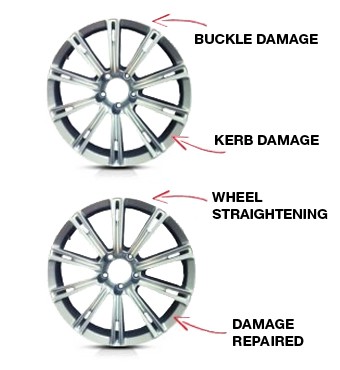 The Process
We use a combination of experience, skill and knowledge along with specialist equipment to straighten your alloy wheels. Specialist hydraulic equipment is used to expertly re-shape your alloys to their original shape. Reverting the wheel back to a 'circle' will stop any air loss and/or vibration that the buckle may have been causing.
Straightening any buckled wheel can result in a wheel crack, although the risk is minimal. This can also be repaired by Diamond Alloys at the same time, and we would contact you accordingly before proceeding so you are aware of the issue and any associated costs.
How to Spot a Buckle
It may not always be possible to see if your wheel has been buckled, but there are certain things to look out for while driving that could indicate a buckle has occurred. If your car starts to vibrate or if the steering wheel shakes it is possible your wheel has sustained a buckle. You should also keep an eye out for premature and uneven tyre wear in addition to unnecessary wear and tear on your car's suspension.
If you think you may have sustained a buckle it is advisable to get it checked out by a reputable alloy wheel repair company like Diamond Alloys. If your alloy is not straightened the vibrations will destroy your tyres and can cause serious damage to both the steering and suspension systems.
The Straightening Process
Every wheel passes through a strict inspection process which identifies if your alloys have a buckle. If they do, we will contact you and advise you your options before proceeding to complete your refurbishment. You do not need to have your wheels re-painted to have a buckle repair. If you are not sure if your alloy wheel has sustained a buckle, pop it down to our workshop and we will check it out for you.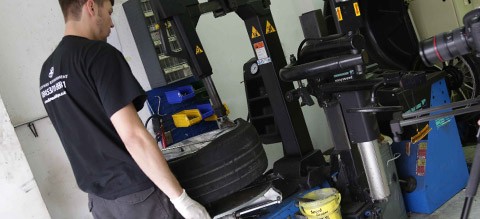 1. Wheels Arrive
Once your wheels have arrived (you can drop them off, or we can collect and deliver) the tyres are removed using a specialist machine. Your alloys and tyres are marked for identification and the tyres stored on our racks.
Your alloys are checked for cracks, buckles and stress fractures. We will advise if the wheels are unroadworthy or beyond economic repair. Any additional repair work and costing will be notified at this stage. Your wheels are then stripped of all weights. Tyre pressure sensor equipment is marked to ensure the correct replacement.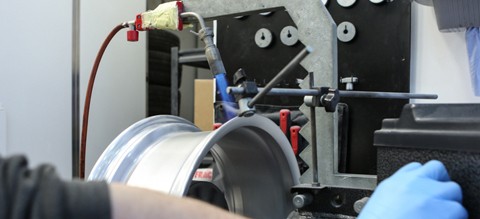 2. Straighten
We use specialist hydraulic machinery to re-shape your alloy wheel and bring it back to the correct shape.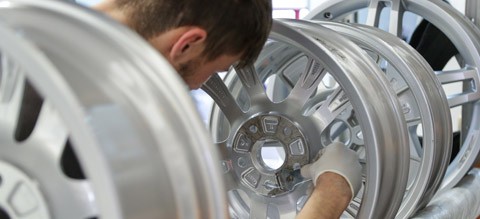 3. Quality Control
Our quality control inspects the alloy wheel carefully to ensure the dent has been removed and that it is back to its original shape.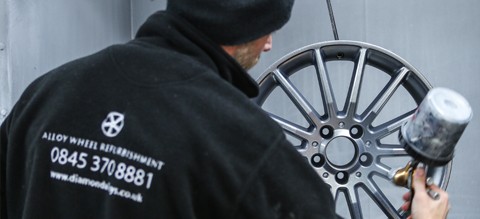 4. Refurbishment
If you have also booked your wheel in for a refurbishment, this will be applied at this stage. With a powder coat finish, diamond cut finish or a custom finish the alloy will appear seamless when finished.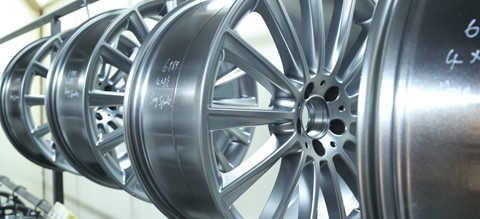 5. Protect and Inspect
After wheels have been powder coated or Diamond Cut we give them a protective lacquer finish to ensure the alloys have long lasting protection. They are then baked in the oven and hung to dry before their final inspection.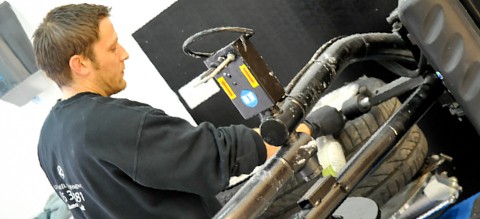 6. Re-fit and Balance
The final stage of the process is to re-fit your alloys back to their tyres. The wheels are balanced and are ready for collection or delivery. This is all included in the price we quote you.

All Your Alloy Wheel Straightening Questions Answered...
How do I tell if my wheel is buckled?
You may find that you suddenly feel vibrations whilst driving. Uneven tyre wear may also be a sign that your wheel(s) have a buckle. Your tyre fitter may advise that you need a wheel straightened before they can put on new tyres.
Do I have to buy a new alloy wheel if it is buckled?
No, you can simply allow us to straighten your wheel at a fraction of the cost of a new wheel.
Can multiple buckles be repaired?
Yes, but three is normally the limit per wheel.
Can split rim alloy wheels be repaired?
Yes, split rim wheels can also be straightened.
Can you repair motor bike alloy wheels?
Unfortunately, we are unable to repair motor bike wheels.
Will the strength of the wheel be affected after repair?
No, not noticeably, however, our roads are particularly poor and further damage can occur because of this, so try and avoid driving over potholes is possible, if not, drive over them slowly and with caution.
What happens if the wheel is also cracked?
We can also have the crack welded.
Can the wheel be refurbished to match the existing finish?
Yes, in most cases we can match existing finishes.
What else do I need to know?
24 Hour Service
Discount Applied for more than one buckle per wheel