Diamond Cut Refurbishment for Alloy Wheels
The diamond cutting process is a premium service that offers the finest finish for your alloy wheels. The precision cut applied to the rims removes only what is required, allowing more cuts compared to other alloy wheel refurbishment methods.
The process involves cleaning your alloys using a specialist aqua jet machine which ensures all dirt, tar, and grit is removed completely before any repairs are carried out. This allows our technicians to get a better look at the condition of the wheel to determine what repair processes are required. Once the alloy wheel is clean it is powder coated before the surface of the wheel is precision cut on a lathe to leave a high cut shiny finish.
The process is completed by coating the rim with a scratch proof lacquer and baked in our alloy wheel oven. At this stage the alloys are carefully quality checked by our technicians to ensure it meets our high standards of finish. The tyres are then refitted, inflated to the correct pressure and re balanced.
There are many different looks you can create with a diamond cut finish, combining it with painted inserts of a custom colour to create a look that is unique for your own car. Our technicians are on hand to talk to you in person about the options available.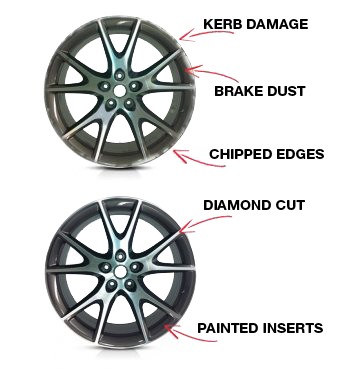 Quality Finish

We believe a diamond cut finish is the best an alloy can get! Our diamond cut alloy repair service is hassle free and quality assured. With precision machine cutting, we guarantee a great result and a stunning look for your rims.
Kerbside damage, scrapes and chippings from the road can leave unwanted markings and damage to your wheel trims, and diamond cutting your alloys will bring them back to life. Although a diamond cut finish is not possible on all alloys our trained technicians are on hand to be able to advise if the process can be applied to your alloys. You can email one of our team here.
Caring for Diamond Alloys
Diamond cut alloy wheels need specialist care and servicing, so we advise that they are cleaned at least twice a week with a car sponge and wheel cleaner to keep them in top condition.
Over time, water can seep in and damage your wheels; however our specialist technicians are experts and can re-service your alloys when required. Keep an eye out for milky patches on your alloys, which may be an indicator that water has started to seep under the lacquer, then email us or give us a call and we can advise what you should do to prevent further damage.
The Diamond Cutting Process
Every wheel passes through a strict diamond cutting process which ensures the wheels are cleaned properly before being powder coated, painted, diamond cut and lacquered. This ensures your alloys are in pristine condition and have a long lasting finish.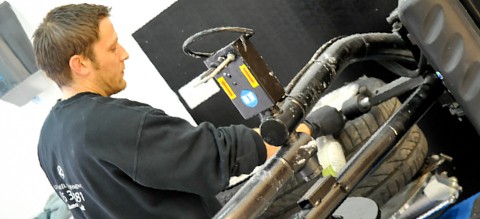 1. Wheels Arrive
Once your wheels have arrived (you can drop them off, or we can collect and deliver) the tyres are removed using a specialist machine. Your alloys and tyres are marked for identification and the tyres stored on our racks.

Your alloys are checked for cracks, buckles and stress fractures. We will advise if the wheels are unroadworthy or beyond economic repair. Any additional repair work and costing will be notified at this stage. Your wheels are then stripped of all weights. Tyre pressure sensor equipment is marked to ensure the correct replacement.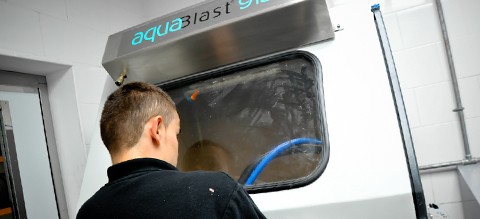 2. Aquablast
Your alloys are chemically stripped back to bare metal, aquablasted to remove residual chemical and other impurities to clean and key the alloy.
Using this machine is quicker than more traditional methods and produces a better surface result.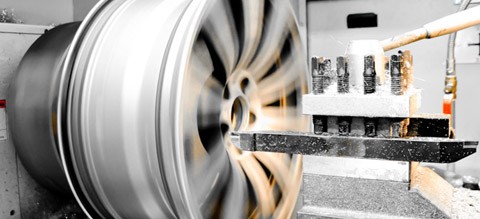 3. Diamond Cut
The alloy is placed into the lathe for precision cutting, pin pointing the exact locations of the damage. Once the data has gone through the machine, the Diamond Cutting process starts by slowly and gradually coming closer and closer to the alloy, cutting off an incredibly thin layer of the metal.
The machine spins the alloy at very high speeds with a rotary cylinder that holds the alloy in place. On the end of the machine, an incredibly precise sharp blade is located which has an electric mechanism beneath it for the machine to slide in and out smoothly, assuring the alloy is not damaged by the high speed cutting of the blade.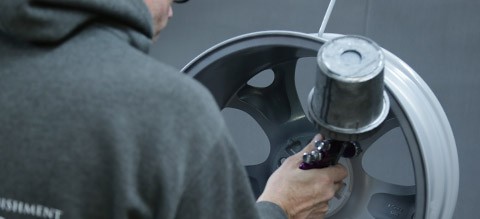 4. Lacquering and into the Oven
The alloy moves into our state of the art oven, which is a pressure controlled environment closed off from the rest of the refurbishment centre. Specially ventilated, the spray oven is used to apply dual layers of lacquer immediately after cutting, to protect your alloys against wear and tear.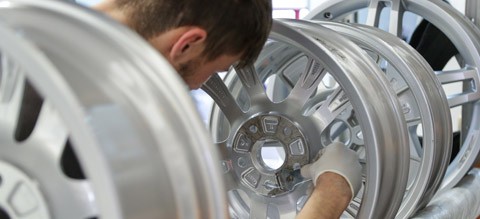 5. Final Inspection
The alloys take about 20-30 minutes to cool, and then they are carefully inspected by a technician to ensure the finish is perfect.
All alloys pass through a thorough quality control check to ensure they have met our minimum standards.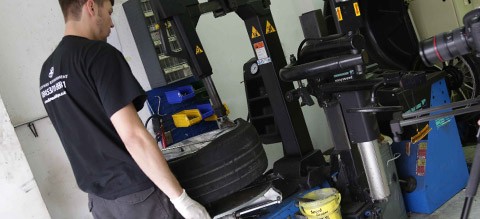 6. Refit & Balance
The final stage of the process is to re-fit your alloys back to their tyres. They are then balanced and are ready for collection or delivery.
We will not re-fit illegal tyres.

ll Your Diamond Cut Questions Answered...


Are all wheels eligible for Diamond Cutting?
Unfortunately no. It all depends on the profile of the face of your alloy wheel. We recommend you email us some pictures of your alloy wheels and we can offer advice on the best service we can offer.
How can I tell if my alloys have been Diamond Cut?
If they have a shiny metal section on the wheel with faint machine lines visible when inspected closely, then chances are they are diamond turned. In fact, the finish is similar to that of a CD.
How long does the Diamond Cutting process take?
Most repair centres will quote approximately 5 working days, possibly longer. However, as we have our own diamond cutting machine we can offer a speedy 72 hour service if your wheels are dropped off, subject to inspection and the condition of your alloys.
How Long will a Diamond Cut last?
Unfortunately due to the salt on our roads a diamond cut wheel may not last as long as other finishes. However, you can prolong the life of the diamond cut finish by ensuring you maintain and care for your wheels. You can use products like Autoglym's Custom wheel cleaner which is a balanced, acid-free formulation which rapidly dissolves brake dust and traffic film from the most intricate and elaborate wheel designs.
How many times can my alloys be Diamond cut?
This depends on the wheel, ranging for 2 to 5 times. We are happy to advise on your wheels, simply email us images and details here.
Do my Diamond cut alloys come with a warranty?
Yes. We offer a 12 month warranty.
What else do I need to know?
Get a discount on 4 wheels!