Powder Coating Alloy Wheels
The benefits of the powder coating process for consumers are simple, powder coating will make your wheels look better and last longer - not to mention its reduced environmental footprint! Many of the environmental challenges inherent in the traditional wet painting of alloy wheels are eliminated or minimised with the powder coating process.
Liquid finishes contain solvents, which have pollutants known as volatile organic compounds (VOCs). Environmentally friendly and virtually pollution-free, Powder Coating is unlike liquid paint because no solvents are used so only negligible amounts of VOCs are released into the air. This means that companies like Diamond Alloys using powder coat technology can comply more readily with increasing regulations allowing you to do your part to preserve the environment too. Powder Coating damaged alloys wheels costs less than buying new so if you are looking for where to powder coat wheels in London then look no further than Diamond Alloys!
Quality Finish
Powder Coating alloy wheels offers many additional advantages. We believe that the result of choosing a powder coated finish for your alloy wheel refurbishment is that it will have the most attractive, durable, high-quality finish available guaranteeing a great result and a stunning look for your rims.
Kerbside damage, scrapes and chippings from the road can leave unwanted markings and damage to your wheel trims, and Powder Coating your alloys will bring them back to life. Our trained technicians are on hand to be able to advise if the process can be applied to your alloys. You can email one of our team here and find out about the service we offer and the great powder coating wheels price deals we have too.

Powder Coat Care Guide
We recommend that you start by hosing off loose dirt with a hose, taking care not to knock the sticky balancing weights off if you have alloy wheels. You should then clean your rims using a microfibre wash mitt and a gentle shampoo, being generous with the suds and taking the time to get into all of the nooks and crannies to remove all of the brake dust.
After washing the wheels, rinse them off with the hose before washing the insides of the wheel arches, rinsing your mitt regularly. Finally, rinse everything off again and dry the wheels using a microfibre drying towel.
Remember, you should never attempt to wash your wheels when they are still hot from driving. This is because products will dry too quickly and leave stains; you could also potentially crack the discs if you cool them too quickly with cold water.
Beware of Break Dust
It is important to ensure you remove all break dust because it can damage your alloy wheels over time. If your wheels are regularly protected with a high quality wheel sealant then cleaning with a wash mitt and shampoo will be sufficient.
A wheel sealant will form a barrier on the surface reducing the corrosive effects and dramatically reducing the chance of brake dust bonding to the rim.
Protective coatings like this should be replaced every few months if adequate protection is to be maintained.
The Powder Coating Process
Every wheel passes through a strict process which ensures the wheels are cleaned properly before being powder coated. This ensures your alloys are in pristine condition and have a long lasting finish. After a powder coat has been applied, you can have a painted colour added or a diamond cut affect before the protective lacquer layer is applied.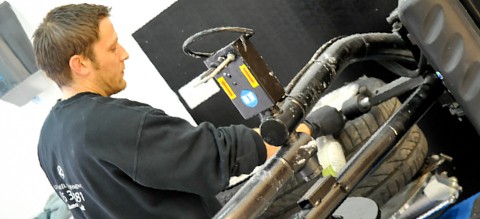 1. Wheels Arrive
Once your wheels have arrived (you can drop them off, or we can collect and deliver) the tyres are removed using a specialist machine. Your alloys and tyres are marked for identification and the tyres stored on our racks.
Your alloys are checked for cracks, buckles and stress fractures. We will advise if the wheels are unroadworthy or beyond economic repair. Any additional repair work and costing will be notified at this stage. Your wheels are then stripped of all weights. Tyre pressure sensor equipment is marked to ensure the correct replacement.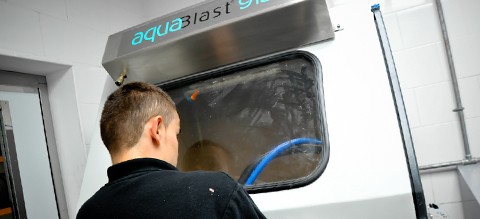 2. Aquablast
Your alloys are placed into a chemical bath and stripped back to the bare metal; they are then aquablasted to remove all chemical traces.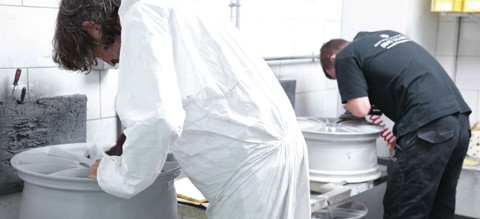 3. Preparation
Each wheel is then processed by the preparation team where any rubbing down and filling is carried out to ensure the alloys are in a state where they are ready for the first powder coat cycle, which begins with a primer (undercoat).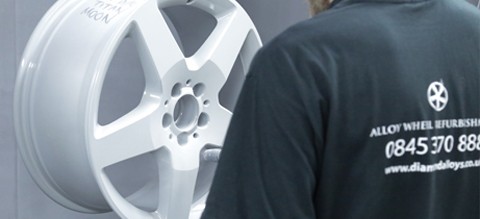 4. Base Coat
Following the successful application of the powder coated primer a second cycle takes place where the base coat (colour) is applied.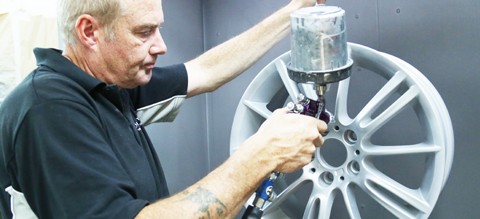 5. Final Stage
The cycle now differs with Diamond Cut wheels being sent to the lathe technicians for cutting or painted wheels having their final cycle, which consists of a high quality powder coat lacquer. Diamond Cut wheels are now also lacquered.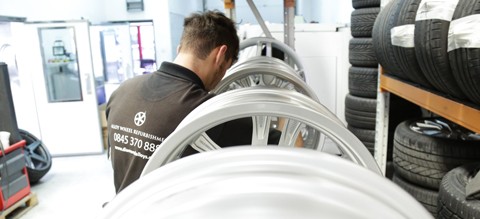 6. Inspect & Refit
The alloys take about 20-30 minutes to cool, and then they are carefully inspected by a technician to ensure the finish is perfect. All alloys pass through a thorough quality control check to ensure they have met our minimum standards. The final stage of the process is to re-fit your alloys back to their tyres. They are then balanced and are ready for collection or delivery.

ll Your Powder Coating Questions Answered...
Are all wheels eligible for Powder Coating?
Yes all aluminium wheels benefit from a powder coat finish.
How long does the Powder Coating process take?
Generally it takes 96 hours to refurbish wheels to the required standard.
How Long will a Powder Coat last?
Our work comes with a full 12 month warranty, if you look after your wheels they can stay looking good for many years.
How many times can my alloys be Powder Coated?
There is no limit.
Do my Powder Coated alloys come with a warranty?
Yes 12 months
What else do I need to know?
Discount on a 4 Wheel repair available